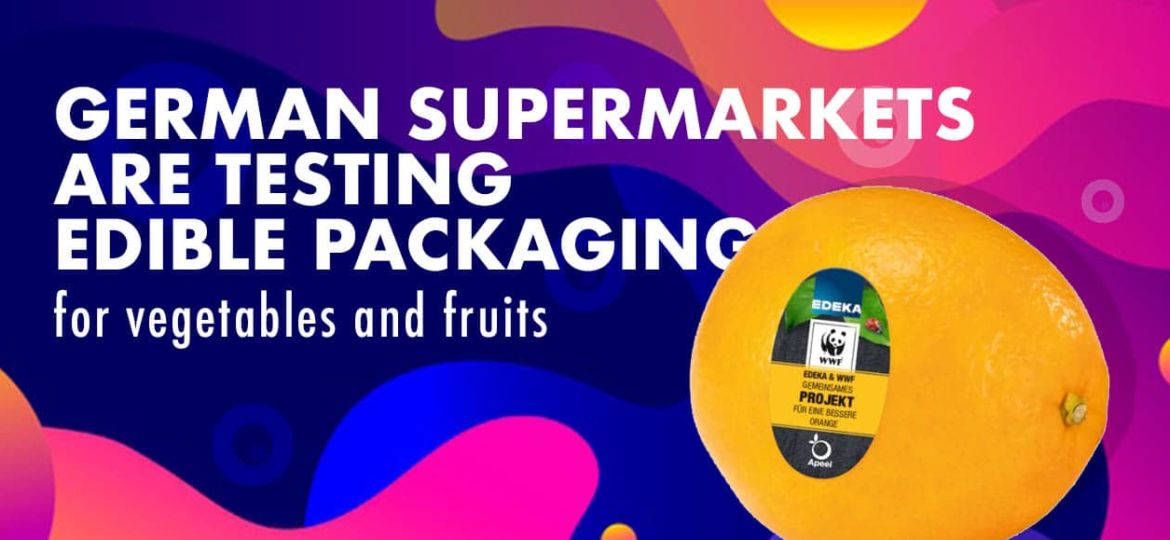 German supermarkets are testing edible packaging for vegetables and fruits
As we announced in the article: THE END OF 2019 AND THE 3 BIGGEST MARKETING CHALLENGES 2020, more and more loudly this year will be heard about ecology. The problem of plastic polluting the environment is being publicized. It is not surprising then that some brands that know the upcoming trends and new customers entering the market (Z generation) as well as they are not indifferent to the state of the environment, are starting to test alternative ways of packaging products. An example of such activities are the German retail chains Rewe and Edeka, which use a spray, edible protective coating for vegetables and fruits. supermarkets are testing edible packaging
Lidl can already boast of the use of fruit and vegetable labeling with natural light.
Edeka uses the technology of the American concern Apeel Sciences, which produces an edible coating from vegetable materials, such as peel, seeds or fruit and vegetable pulp. The Edeka network uses this method to pack avocados and oranges.
On the other hand, the Rewe network has established cooperation with the British company AgriCoat NatureSeal, which produces an edible coating of sugar, cellulose and vegetable oils. Already in the brand's supermarkets you can find avodako, oranges and mandarins wrapped in this way.
The "edible packaging" of both companies are neutral in terms of smell and taste.
supermarkets are testing edible packaging
eco - solutions for brands from 2019
As part of the collaboration, well-known Coca-Cola and Diesel brands have created a joint capsule collection of clothes made of environmentally friendly materials – including made of recycled cotton or recycled PET plastic bottles.
Coca-Cola i Diesel: (Re)Collection
Barhan: Bags with election posters
This is called zero waste – the designers of the Polish Katowice brand Barhan decided to use the old election banners that appeared in the city before last year's elections to the European Parliament and created original bags out of them.
IKEA: Better
Living
IKEA is a brand that is constantly actively involved in activities aimed at combating climate change, or more broadly – promoting caring for our environment. This example is the "Better Living" application, in which the company presented simple ways to lead a sustainable life, for the benefit of us and our environment.
Lidl: Marking vegetables and fruits with natural light
No packaging, no paper, no ink or glue, only the product itself – this form of selling fruit and vegetables is possible. This was proved by the Lidl network, which in December 2019 introduced the first bio vegetables labeled with non-invasive natural light to stores.