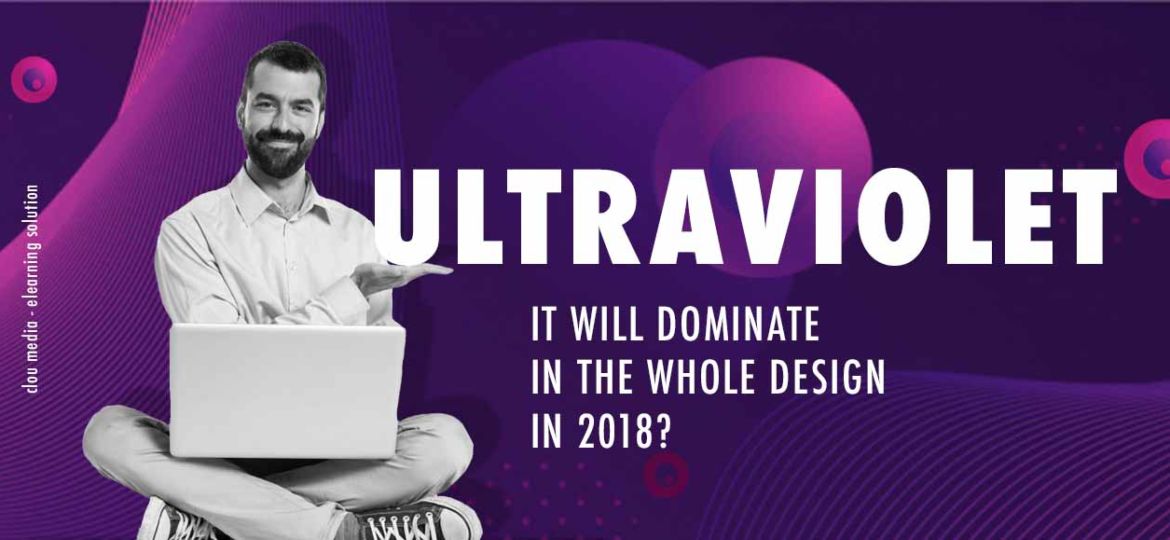 UltraViolet – it will dominate in the whole design in 2018
UltraViolet – Pantone colour 2018
Extremely modern colour, which will dominate in the world of graphics, packaging, fashion and home decor in 2018, is in fact a shade of purple in blue.
Ultra Violet is a strengthening combination created with the right proportions of blue and red that makes you feel that the future is happening right here right now.
Pantone announced color 2018 just a few weeks ago, and today you can see the beginnings of bogeania. Marketers do not sleep and observe trends, so it is not surprising that despite the beginning of the year and a few weeks after the announcement of Pantone, violet effects in many projects are already visible.
The violet shade, pleasant in the reception, carries the vibrations of innovation, luxury and mystery that for many of us seem like a breath of fresh air. After a few years dedicated to pastel and earthy tones, it was time for him to attack the bold color.
We can say that the Internet does not rebel. On the contrary, many projects from various creative fields have begun to emerge, inspired by the ultra-modern Ultra Violet.
Violet colors appear in almost every major redesign of the brand this year. In 2014, Pantone has already given us fuchsia / purple dreams, choosing Radiant Orchid as the color of the year.
However, nothing could prepare us for Ultra Violet: a galactic, dark violet shade that destroys the world of design. The words used by the Pantone team this morning, "Ultra Violet paves the way for what is yet to come."
"We live in a time of demanding inventiveness and imagination, it is this creative inspiration born from PANTONE 18-3838 Ultra Violet, which transfers our awareness and potential to a higher level" – said Leatrice Eiseman, executive director of the Pantone Color Institute. "From discovering new technologies and a larger galaxy to artistic expression and spiritual reflection, the intuitive Ultra Violet paves the way for what is yet to come."
Quoting the musical icons of Prince, David Bowie and Jimi Hendrix,
Pantone, one can notice that dark purple like Ultra Violet
"has long been a symbol of counter-culture, unconventionality and artistic splendor".
Pantone brand color in 2018 is misleading
Technically, the name of the Pantone brand color in 2018 is misleading. Ultraviolet is not the color that most people see because it is outside the visible spectrum.
Only people with a lack of an eye lens can perceive ultraviolet as a color. French painter Claude Monet is the most famous of these rare people. Known for the spectacular amount of images in the purple tone. The researchers suppose that Monet was able to see the ultraviolet after undergoing surgery to remove the lens of the left eye (at the age of 82).
Computer engineer Alek Komarnitsky also experienced "violettomania" Monet. In a very detailed description after cataract surgery in 2011 Komarnitsky said that the ultraviolet added "a pale blue-purple gloss" to the environment.
Scientific accuracy has not discouraged Pantone from choosing "zippy moniker." "The name is always the main factor in our selection, because it is part of what evokes color emotions," says Eiseman. "Ultra" is associated with additional meaning and excitement in the name, also strengthening "not in this world", characteristic of color. "
Interesting about Pantone colors
Only five people in the world have their own Pantone colors:
– Jay-Z has a pearly blue,
– Property CEO Sherry Chris has a bright pink,
– fashion designer – Jason Wu, has gray,
– and the British fashion designer Richard Nicoll has an elegant blue.
– Prince has the symbol of love No. 2, but do not confuse his shade with Ultra Violet!
Prince with his own colour from Pantone

"Our selection for the Pantone Color of the Year 2018 had already been confirmed before the Prince estate came to us to develop a signature purple shade that was exactly the same as his purple piano," Leatrice Eiseman, executive director of Pantone's color consulting division, told Quartz.
Calvin Clain went to a higher level of cooking
"Calvin Klein kept the Pantone chip in the kitchen to signal to his chef what color his coffee would be," said Lisa in the New York Times interview for daughter Lawrence Herbert.