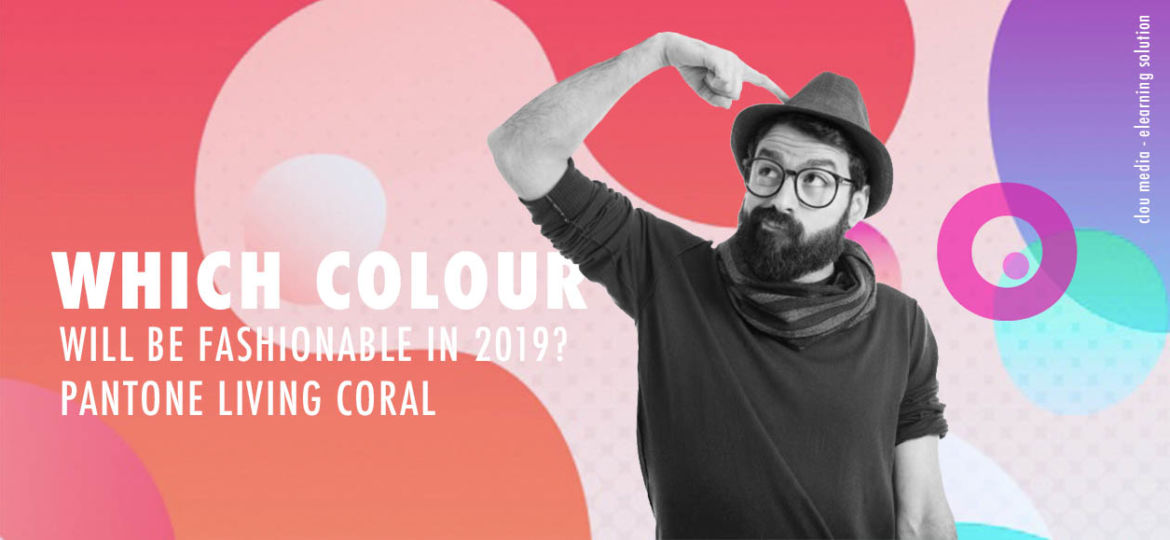 WHAT COLOUR WILL BE FASHIONABLE IN 2019? PANTONE LIVING CORAL
Tradition is a holy thing. Yes, some say so. Whoever disagrees, however, must accept the fact that culture is being built on its foundations. In our culture, design has such a strong position that it can establish its own traditions. One of them is the annual announcement by the Pantone brand in the color of the year. My attention is not overlooked by the fact that their verdicts are also loudly announced by other companies that earn on the human passion for colors. What in that case makes the American corporation have a monopoly on determining color trends for 16 years and is getting more and more confident on the stage where the spectacle takes place. "Creating a lifestyle"?
Such stories usually start with a schematic story of a simple craftsman who just one day got a brilliant idea. We know little about the founder of Pantone (he finished chemistry at the Hofstra University in New York and in 1956 he was employed part-time with the Levine brothers who dealt with commercial printing), which is why we can give the imagination and fantasize that in 1963 Lawrence Herbert woke up with the intention of implementing a revolutionary dream vision that would make life easier for millions of graphic designers.
The fact is, however, that Herbert created an innovative system for identifying, matching and communicating colors, because he took into account that the spectrum is seen and interpreted differently by each individual. In other words: knowledge, work and imagination – these are the ingredients that were chosen to create the perfect color scale, but Lawrence Herbert accidentally added one more ingredient: the desire to earn money, and that's how the Pantone® Matching System® came into being! Earlier, however, Herbert bought shares of his employers' company for 90,000 dollars and changed its name to Pantone. Every year, the company sells a myriad of products and services along with hundreds of licenses in over one hundred countries, acting wherever any design is involved, ranging from graphics, through fashion, and architecture.
COLORS OF THE YEAR BY PANTONE
The process of choosing the color of the year by Pantone looks exactly like the summit meetings in Hollywood movies. Since 2000, representatives of branches from different countries have met in a chosen European capital to debate, among other things, what color deserves the honorable title Pantone Color of the Year. They talk and present their views two days, twice a year, which results in a decision that must be approved one year in advance.
Interestingly, according to Pantone, the choice of color is dictated by the zeitgeist, or the spirit of history. Marketing specialists at the company showed an unspeakable fantasy when in 2011 they dictated to the press:
"In times of stress, we need something to lift our spirits. Honeysuckle is a captivating, stimulating color that gets the adrenaline going – perfect to ward off the blues"
We know the color of Pantone 2019 year
Living Coral is the color of 2019 according to Pantone. This is a gold-coral shade, extremely intense, warm and infectious. That is the total opposite of Ultra Violet.
What colors will dominate the coming year from the middle of the previous year, harnesses the thoughts of designers, interior designers, but also ordinary lovers of design. It can really say a lot, in what direction we will go in interior design and design.
In 2018, the Pantone Institute of Colors of the Year was Ultra Violet, an intense shade of violet. It turned out, however, that this color was not ovationally accepted, especially by interior companies.
It is a shade very difficult to use in interiors. However, the indication of such a dark and unobvious color showed a certain direction.
Certainly this color was often used in online design. Very often, there was a trend on websites.
In the past year, we have more and more willingly and boldly reached for sophisticated, un-colored colors. We experimented more willingly and chose bolder shades. In the coming year, we will continue to follow this lead.
Number 16-1546 is a shade of coral reef and underwater nature. While Ulta Violet was the color of artists, Living Color draws on natural beauty. This beauty is in great danger today. According to Pantone, the color of 2019 affirms life and energy, contrasting with the technology and the world of social media. Living Color is authentic, joyful and optimistic. It is also a reminder of how fragile and fleeting nature's miracles are and which draws our attention to what we can do to protect them.