benefits of professional development
"I want to discover myself" A few words about personal development
Colleagues in the office, collapsed with work, our content marketing almost in agony convulsions. Nobody has time to write something on our blog.
Because I get up very early, I decided to use this time to write a few words. It will not be a peculiar instructional text. This time, something about personal development, which is strongly related to e-learning and education.
I had this view last night: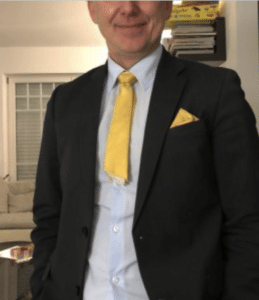 I have to apologize for cutting a head, but I get the impression that my husband would not be happy if he found out that I use his image for the Clou Media ad;) If someone would like to know, I didn't choose a tie.
Those who live in Germany probably know what's going on. One day a year, you can cut your work colleague a piece of tie. Apparently in Cologne it's such a strong tradition that if you are not happy and go to cord – you will not win.
Funny tradition, if  you remember in which its happen and in this particular day will dress a tie you do not like.
But what does this have to do with personal development. Let me explain
Seeing my husband stripped of a piece of the tie, I was terrified that it was this day. I was sure last time I saw him with cut  tie not more then half year ago. Surprisingly, I somehow went silent with Silvester, but yesterday touched me and pushed me to reflect on the inexorably passing time.  Another year fluttered without asking me for permission.
Of course, the reflection came at once. What did I do during this whole year? What happened in the previous year at this time. And you know what? Nothing. Nothing could come to my mind, nothing important. Scary…
One year I just stayed more anchored 2012
This year I managed to find time for the Theater. Between February and March in 2012, I managed to watch a couple of performances on "theatre days", and one show remained the most permanent in my memory. "Educating Rita". An extremely difficult performance for actors, because there is only one set design and two actors.
It's easy to imagine how much work actors have to put in order not to bore the audience and how much they have to be concentrated on themselves to conduct dialogue on stage for more than two hours.
As far as I know in 1983, a movie was filmed in Great Britain directed by Lewis Gilbert. Is the film good? I do not know – I did not see.
What is the spectacle and the movie about?
Great Britain, 1980s. University. A young hairdresser Rita comes to the office of a professor of English literature, Frank Bryan, and wants to find out if she has been accepted for a literature course.
She dreams of learning the art of interpreting the texts of culture, because she believes that thanks to this her boring, colorless life alongside the husband of a worker will become more valuable. And this is how the "Educating Rita" begins, a film that is almost entirely devoted to personal development.
We are like this Rita, Personal Development is our professor
What is the attitude of contemporary culture to the paradigm of constant transformation? Is man able to become constantly?
At the moment when Rita realizes that the world she has been building so far is not her world, that she was imposed by her family, partner, norm, in a word – environmental determinants, she already knows that everything must change.
Culture loves such stories. Let us quote the myth of Odysseus, which is the story of the inner metamorphosis of Shakespeare's Hamlet.
Let's think about famous people. Coco Chanel. Who does not know this person and how strong the brand she has created. And how few people know that she came from a very poor family, and as a little girl after the death of her mother she went to the house of religious sisters.
As an adult she ran a business that brought her profits in millions. Did you know that she could not write well, and she counted best using her fingers.
You are not condemned to genes and family conditions
As you can see, it is not important where are you come from.
That our intelligence is not genetically conditioned confirms Marian C. Diamond's. She was a neuroscientist who overturned long-held beliefs by showing that environmental factors can change the structure of the brain and that the brain continues to develop throughout one's life.
If you were interested, read more here in NY Times:
As you can see, nature gives everyone a chance.
You are also like Rita
Rita, she knows she wants to change. Boldly and without embarrassment, he comes to Professor Frank Bryant: a blond hair, a high heel, a short skirt.
Professor surprised by her directness and straightforwardness, takes out an essay signed by Rita S. He asks where this "s" is from, to which Rita explains that this is an abbreviation from Suzanne, which she does not want to be anymore. And the name Rita took from the author the books, probably not the best, since the professor does not recognize the name of the writer or the title of book.
Rita is honest and straightforward, after a question why she changed her name, she answers that she wants to discover herself.
Already in the name change itself, we see the announcement of coming metamorphosis, and the pursuit of it is nothing but the development. Rita irresistibly strives to change. And that is what each of us is going through during our lives. We aim to finish our studies, obtain a master's degree, doctorate, then follow the career ladder.
Sometimes these are other desires, like a good looking body, a muscular silhouette, a sense of meaning in life and balance in life.
Sometimes, like Coco Chanel, we strive to break free from the social lowlands, dedicating private life. Often like Rita, we want to break free from toxic relationships, environments that are not ready and do not accept our changes.
At the beginning there is a desire
Rita decides to take the next step. He implements his decision in life. She is fascinated by literature, literally devouring information that the professor tells her. They talk about literature for hours, she interprets it better and every day introduces changes in her life.
She realizes that she can not find herself in those schemes in which she has been functioning so far. Her husband don't understand her anymore and does not support the changes.
Now it's hard to quit learning
Rita has left her comfort zone and we leave with her. We have reached the point when the change is constituting, and that we have fallen in love with this whole development.
Endorphins work, complacency with effects pushes for further action. For this reason, we do not leave the conference before receiving the certificate, we do not give up studying before finishing the master's thesis. We do not turn off the computer before completing the tests in WBT. Development obligates, and we want to continue to feel those hormones that give us so much satisfaction and pleasure
The inevitable transformation
You probably know many similar examples from your life.
Rita is different and does not live the same life anymore. She leaves her husband, Rita is no longer able to pretend to build anything with him. She also changes her appearance – she is no longer a blonde in small dresses. Rita does not want to pay any attention to her outside look, she wants to be appreciated for the intellect.
After development follow outside changes. Our appearance is usually a kind of manifesto: madness and extravagance, beauty and harmony, normality and distance. We are weaving, we lose weight, we change the color of hair. We throw off the skin to reject the old identity and enter into a new self.
The end of the old, a new beginning
As you can guess, Rita goes to the exams and passes them with the best mark. Learning with the professor cost her a lot of self-indignation but as a reward she receives a new life, fuller and more expressive. As she claims, she received more choices.
By the way Rita managed to do something more: she influenced her profesor. She showed him that he had a chance to deal with the addiction. We have the classic realization of proverbs: the student has surpassed the master. Quite a good end to the spectacle.
What is a

 

Career development 
Career development is the lifelong process of managing learning, work, leisure, and transitions in order to move toward a personally determined and evolving preferred future.
The times in which we live make sure that we do not stop at shapes and genes given to us in a package from parents and in heritage from their ancestors. This data is insufficient today. We have the opportunity to constantly become, to improve, as in the definition, how Rita did it. After all, why should not we use it?