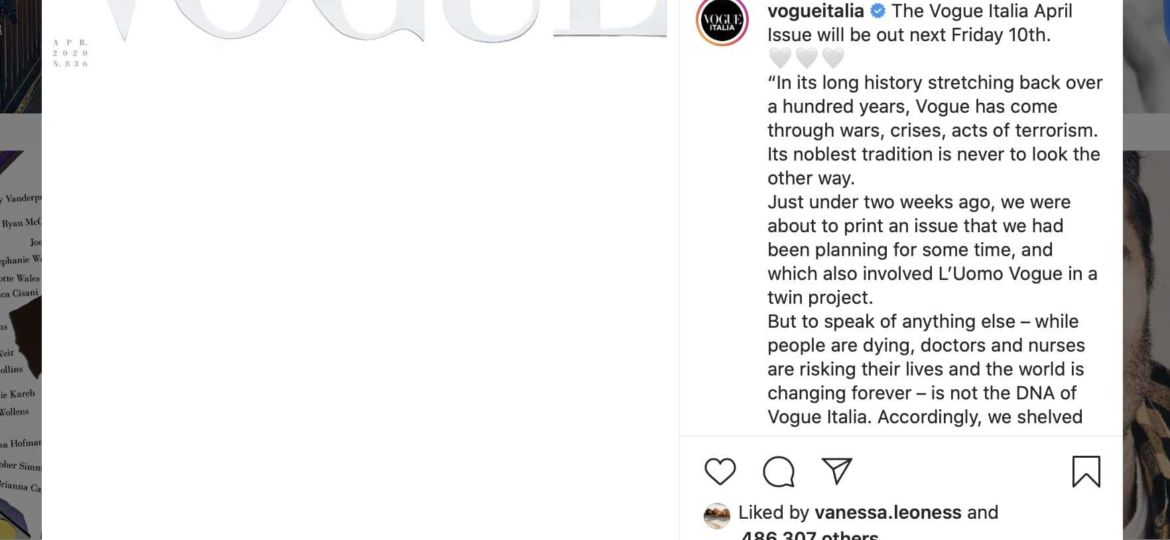 -1,5 min read – 
Vogue Italy – THIS EDITION WILL GO TO HISTORY
Vogue Italy – THIS EDITION WILL GO TO HISTORY
On the latest cover of the Italian edition of the magazine "Vogue" you won't find any top models and the latest trends. However, this is not due to the fact that "Vogue Italia" had nothing interesting to offer – quite the opposite. The cult magazine through white decided to pay tribute to those who died as a result of the coronavirus epidemic.
Unfortunately, some countries are particularly affected by COVID-19. We are getting sadder news from Italy, Spain, France or the United States. The world seems to have stood still. Now the authorities and healthcare are doing everything in their power to help the sick. The media are not indifferent to this either. News services focus primarily on coronavirus, and entertainment programs on TV stations have been largely suspended. The press found an interesting way to comment on reality. The covers of prestigious magazines aptly and eloquently refer to the current situation. "Vogue", "Time", "The New Yorker" … these covers can go down in history.
"Vogue Italia" with a white cover. This edition will go down in history
Certainly, the cover that has the greatest chance of being recorded in history will be the April edition of the Italian edition of "Vogue". As announced by the creators, on the cover of the magazine, which will be available for sale in Italy from April 10, 2020, we will not see any model or even graphics.
The cover of April "Vogue Italia" will have. Why?
The editor-in-chief of the magazine, Emanuele Farneti, explained this in a statement published on INSTAGRAM:
White is first of all respect.
White is rebirth, the light after darkness, the sum of all colors.
White is the color of the uniforms worn by those who put their own lives on the line to save ours.
It represents space and time to think, as well as to stay silent.
White is for those who are filling this empty time and space with ideas, thoughts, stories, lines of verse, music and care for others.
White recalls when, after the crisis of 1929, this immaculate color was adopted for clothes as an expression of purity in the present, and of hope in the future.
Above all: white is not surrender, but a blank sheet waiting to be written, the title page of a new story that is about to begin. "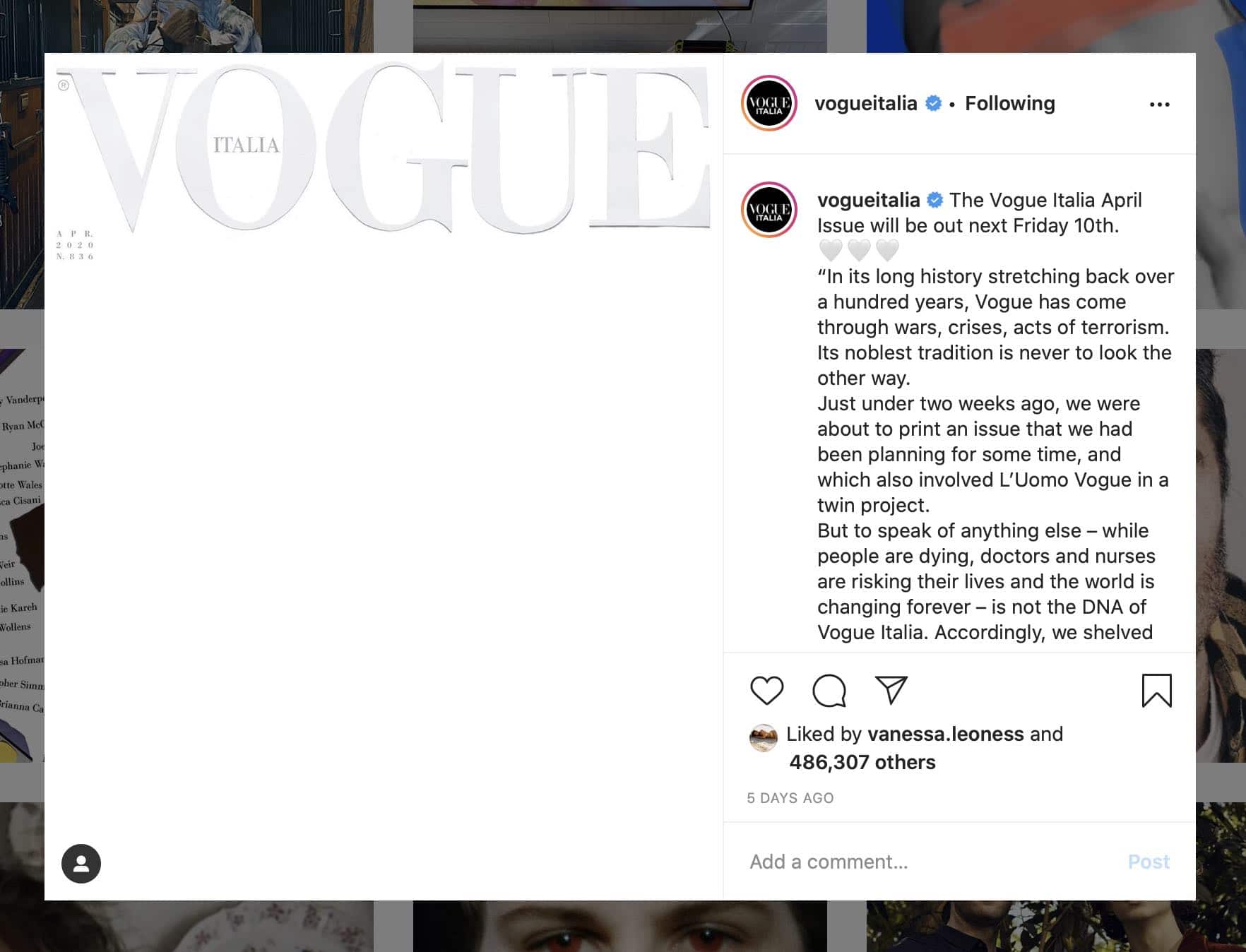 The covers of the famous New Yorker magazine can also go down in history. In the newest of them we can see an illustration in which the doctor looks, being in the ward, eloquently on the phone on which she has her loved ones – her husband and children who are sheltering at home.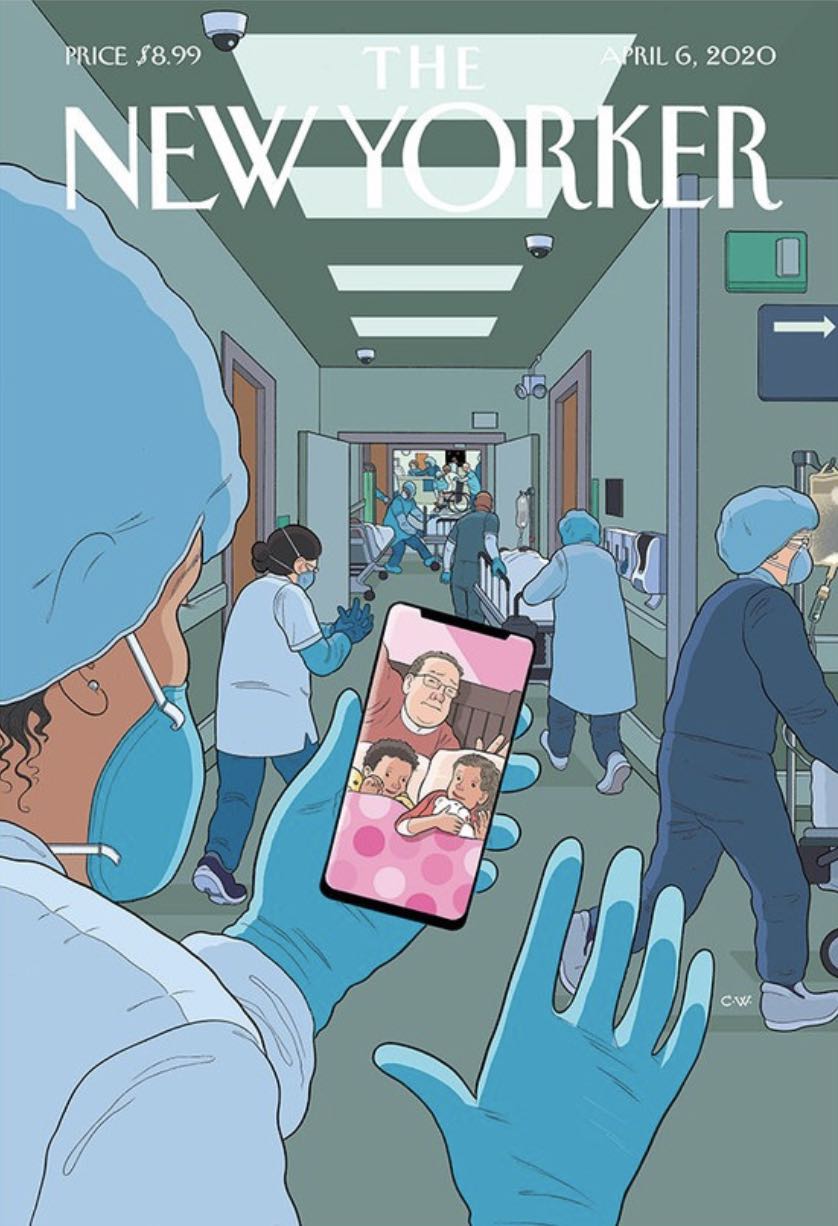 The American weekly Time, which in March 2020 prepared as many as six unique covers of the same issue, will certainly go down in history.